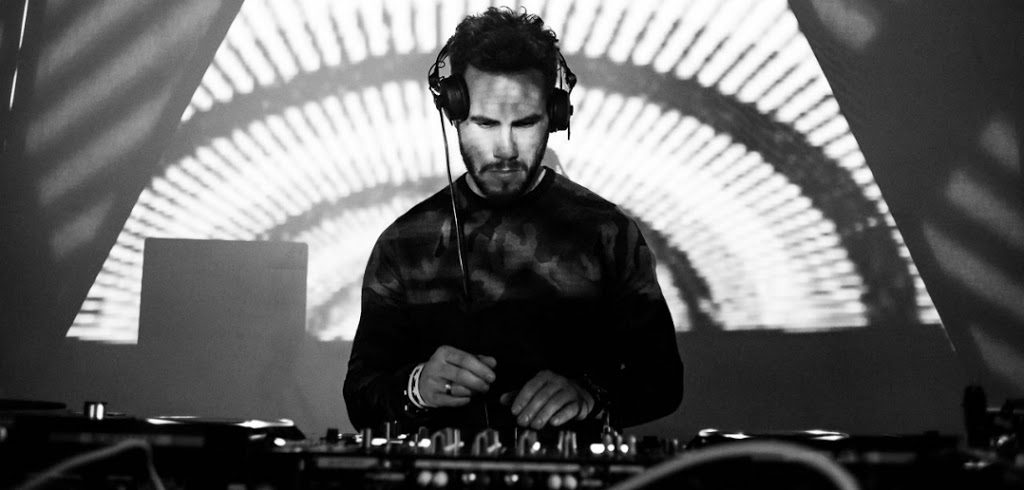 Right after Christmas, the Bass Camp guys surprised us again. Their guest was Jay Fairbrass, aka J:Kenzo, whose stylishly eclectic set fascinated the crowd. Not to mention his open and friendly personality! 🙂
It's your first time in Hungary, right?
Yes it is. I've heard all the good things about the Bass Camp party in October, my friend, DJ Redhot was here a few months ago and he told me how good the event was.
Do you happen to have any stereotypes about Hungary and Hungarian people?
Not really. Well, one of my friends, DJ Madd is Hungarian, he's a great guy, so that's a good reference, I think. (laughs)
Your first album was released in 2012. Are there talks of a new album in the near future?
Yeah, there were talks of it and it's been put on hold for time being — due to the fact that I've been releasing singles with different labels. So I decided to go on that route over the last two years but there will be another album, I just don't know when. Who knows? Could be sooner rather than later.
The other question is: where? Which label would you prefer?
It depends on what music is on there and what labels show interest. I'd be inclined to releasing it with another label if we both shared the same vision. I suppose with Artikal, I have control over everything, so that's one of the main points.
Talking about labels: what happened to your former label, Soul Shakerz? 
I started up a P&D deal, which means I'd give them the music and they do everything else. The company I'd chosen, unfortunately, wasn't a very good company to be dealing with and they went out of business owing me money. There was a vinyl press made for release number 007, which was the last one in the catalogue, which is Heny G's remix of Conqueror and his own tune, Hardo Bread on the flip side, but we didn't see any money from that at all. At that time, I just started working with Tempa, and then Artikal came at the back of it. That was the end of Soul Shakerz and the start of Artikal within a year (smiles).
What was your exact reason for starting Artikal?
I had loads of good music, I was working with the BBC: doing the mix for Mistajam show for Daily Dose of Dubstep on 1Xtra at that time. That was every other week, so I just had tons of music I liked and no-one, I mean the bigger labels, like Tempa, Deep Medi and Tectonic wanted to put them out. I was there, being sent a lot of good material, and I thought the tracks were good enough to be released. I enjoy putting out other people's music, the concept of the release is good for me: the artwork, the music and the whole story behind. You're helping these artists along their way — that's what I believe we've done at Artikal: given them exposure by releasing their music.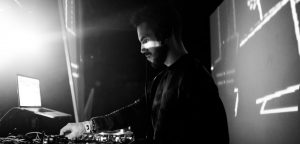 That is exactly that you received from DJ Youngsta. 🙂
Yes, definitely. (smiles) It goes hand in hand. I was releasing music but it wasn't until I met him…. and it was through DJ Madd (laughs)… he was the link between. It's quite apt I'm here… (laughs)
You know, Hungarians are everywhere. 🙂
Well, Madd made the connection between myself and Youngsta. So going back to your original question: yeah, that's exactly what Youngsta did. He took my music and exposed it to a wider audience on a bigger platform, and it grew from there.
Without his support, where would you be now in your opinion?
I'd still be doing it, to what level, I don't know. I'm the type of person who keeps on pushing. If I'm passionate about something whether it's the music, production or DJing, I just keep going. What level I'd be at? I don't know. I'd met a lot of good friends from big labels over periods of time, so there could have been the opportunity with them. But with Youngsta, it's different. We've got a very good friendship, personally as well as within music.
What about your other label (Lion Charge Records)? It was founded in 2013, just a year after Artikal. 
Yes, the reason is the same; I had loads of good music on the more dubwise tip which should have been put out. Being Vinyl only without intention Lion Charge became a collectors' label. Just for the sheer fact that I said it was vinyl only, dub music, in a new style, future dub music, I suppose, but keeping tight to the roots. I just wanted to keep it simple: white label with a handstamp, every copy unique. The first release we pressed only 200 copies, and it was sold out within minutes… It was like testing the water to see how it goes and whether people are into the sound that we were releasing. There was a gap: apart from the big dub labels, there were not many labels doing the real dubby stuff, which was still dubstep, but in a different fashion.
Why is vinyl so important for you?
Because that's what I grew up with. I've never left it alone. It is the master format. It is the best soundwise, lookwise, everything… You cannot pick up a stream or a download, you can look at the artwork on the computer screen only. Whereas if you buy vinyl, there is a complete history: when you bought it, what shops you went into, what parties you played it at, the artwork itself. Sifting through your record bag and you remember the colour of the sleeve… Everything's got a story behind there, that's why I wanted the next generation who have grown in a digital world to experience it as well because at that time I was being told vinyl was dying and no one was buying it, and you see now that the Independent put up a documentary about vinyl sales exceeding digital downloads. I understand that it doesn't necessarily relate to the underground, however, it still shows that vinyl has become popular again, and I believe it will throw back to the underground and we will see vinyl sales maintaining like we have done over the past 10 years. "Vinyl is final", that's how I see it.
I'm trying to experiment as much as I can with vinyl. Obviously, with DJing, it has become harder. You'll rarely find decent equipment and a setup with a good sound engineer, the next generation of engineers may not have touched vinyl or understand how to set turntables up correctly. I've got a big up to Mala, Pinch, Vivek, Kahn & Neek, Compa, who continue to play vinyl. They encounter problems with the set up but play, well, every week, and just get on with it. There are problems: jumping needles, earthing difficulties, wrecked decks, so I do admire them keeping it alive!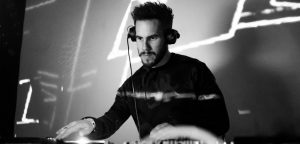 Your production career started quite late, you were 26 then. What did you do beforehand?
Well, I've been DJing since I was 14, nonstop, every weekend. (laughs) But not for making a living then, of course. I've been through very different jobs; a bit in the building industry, which is still where I keep my toes on now, sales and management, but music has always been there, I've never let go of it. There have been times when I wanted to but it has always come back and found me. It's been a long time coming, especially if you see the kids nowadays, their careers are so quick: they turn 17-18, make a big tune and travelling the world off the back of it. It's cool but I'd prefer my own way because it made me appreciate what I've got now. It'd be hard to think about a life without music being there but yeah, production has come late. It's just that fact that I didn't have a computer, I never knew about a software and never had anyone around to give me guidance. Also, I was more interested in DJing.
And then, I decided to start producing. I worked with a few friends who introduced me to different programmes like Cubase and Reason. I started teaching myself, spent long hours trying to get out what was in my head. It took a while to get the sound that I really wanted to achieve.
DJing and producing are not automatically related. Why did you choose that after all?
I had loads of ideas round in my head that I wanted to use, a lot of samples and also, I love experimenting. In addition, I also wanted add my flavour to the scene when dubstep was coming through (around 2003-4). I really caught the vibe, it had jungle influences, interesting soundscapes, melodies, half-time beats, 2-step beats — this is where I come from. I gave producing a go and enjoyed it. Many DJs try it but simply don't like it at all but as for me, I love the whole creative process and I got deep in it.
Your dad was a vinyl lover, so music has always been natural for you. Your childhood seems to be framed by films, martial arts and football. What were your other interests?
Well, pretty much all the above, yes. (laughs) Football, watching Bruce Lee films and martial arts. By choice, it would be muay thai and kickboxing but I did taekwondo when I was very young. I was interested in action films and sci-fi and I think it comes through my music as well. I've always been inspired by soundtracks.
Does it also mean that you're planning to write soundtracks yourself?
Yes, I'd love to, just need the right company to come and make me an offer. (laughs)
That's exactly what Break is waiting for as well. 🙂 
That's cool! It would be great to create and soundtrack, I feel I have something unique to give for a film or a TV programme.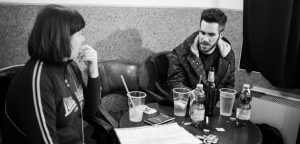 Bergi (promoter): If you had to choose a sci-fi novel or film for making a soundtrack, which one would it be?   (
(laughs) Star Wars, of course. Everybody who knows me knows why.   B: But which episode?   There is a piece of music at the end of the Return of the Jedi (Episode VI) entitled 'A Jedi's Fury' where Darth Vader and Luke are fighting in front of the Emperor. It's a very dark scene, Luke's all in black as well as Darth Vader and the music is really emotional. It's only short but that is probably the best possible piece of music to fit in what was going to happen on the screen at that time.
Last but not least: you were a resident MC! 🙂
(laughs out loud) Noooo… that's amazing you've found out.
You were a resident for Garage Nation between 1999 and 2000.
Yeah. Basically everybody was a DJ and they had no MCs. I listened to MC GQ and Juiceman religiously, they were my idols. I got on the mic and done my thing. DJ's wanted me to come along and MC as my vibe wasn't about chatting too much, it was more hosting, making sure that the vibe was kept and that was my style: more of a toaster hoster rather than a straight lyrical MC. I'd rather write music than pick up the mic now but back then, from 1997 till 2001, I was MCing first, DJing second.  
Which MCs do you look up to currently?
GQ, of course. SP, one of the best MCs ever! He really knows how to work it, he understands what it's all about. As an ex-MC, I know what I want to hear and he delivers it. SP, Conrad, GQ, Moose, Navigator — that's what I like to hear.
By the way, where does your moniker come from?
Kenzo comes from my love of Japanese culture. I've always been interested in Samurai warriors and Kenzo is a strong warrior esqe name. In Japanese, kanji Kenzo means to build and create, which is what I do with music.
OK, what's your dream currently?
(laughs) To play at Bass Camp Orfű next year!  
Great, see you there! 🙂
If you liked the article, you can follow me here. 🙂
Photo credit: Bertalan Soós — Lefotózlak!