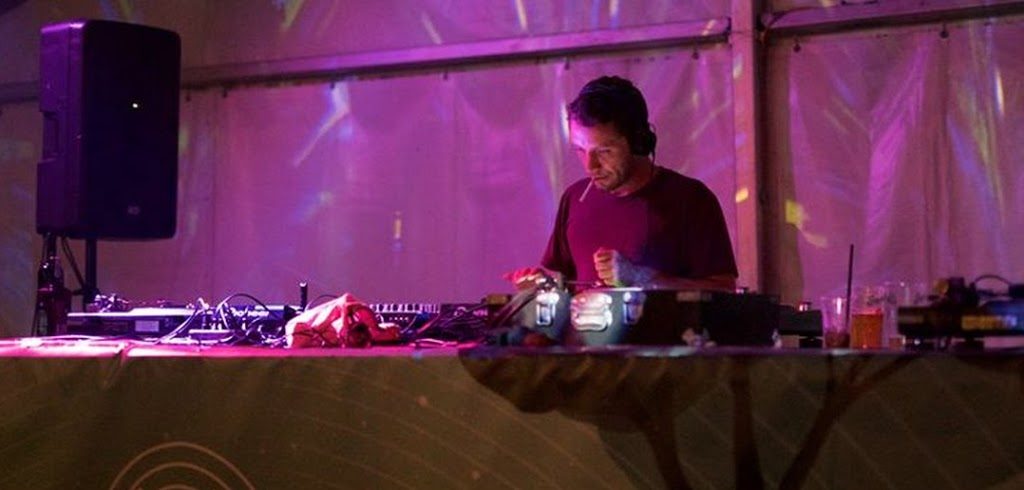 The first ever Bass Camp Orfű in July 2016 brought a fresh and unique breeze to the Hungarian electronic music scene. Probably its friendly, chilled atmosphere as well as the wide range of selectors and genres could evolve into this special and memorable weekend — thanks, folks! 🙂 Commix, aka George Levings, one of the pioneers was kind enough to chat after his magical, quite prolonged set
It's not your first time ever in Hungary, is it?
No, I don't think so. Don't remember when the last time was, though. (2008 Eger is for sure — Evi)
How did you like this evening?
I enjoyed it, it was really good fun, actually. Played for longer than I normally do. I was playing different kinds of music and everyone was into it.
And a lot of oldskool, which I adored!!!
Yeah, quite a lot. As it was a long set, I'd have played them anyway.
Do you normally play oldskool in your sets as well?
Sure! I like to play the music I grew up on as much as new stuff. So, I try and make a happy medium between the two. There are so many drum and bass tunes that stand the test of times, so you can always play them and they always sound good. I like keeping those tracks alive and at the same time, keeping new songs on top.
How do you follow the dozens of new tracks that come out each and every day?
Well, I don't hear many things that I like. For the most part, they are really, really basic tracks that I'm liking now. No-one's making any big anthems or anything with much content at the moment, unfortunately. It's all very minimal.
Why do you think this is the direction now?
I don't know. I think it's got to the point of in its formula. I had to leave drum and bass alone for a long time because of its formula and it was just annoying me that I had to make music in this way. Because there are no rules for making drum and bass, it's stuck in a way of structure at the moment. The music I grew up on didn't allow the same rules as they are now. It was a lot more organic, a lot more free, not so stuck to a rigid arrangement. So, I enjoy the challenge of playing tracks like that and do miss tracks like that. When I'm looking for new music nowadays, I feel that big experimentations are going to the wrong direction.
Why don't you contribute to the scene by creating the music you're longing to hear?
I do! I've got two EPs coming this year, I've just had one out and I will have one in September and then hopefully another one, at the end of last/beginning of next year. Then I'm going to do an album. I've got different ideas about it, definitely. As a producer, I can't fit in with this super engineered music, so I'm just trying to do something really different, more ambient.
When is your album due to?
First half of next year. That's the plan but at least, it will be finished by then.
What was the exact reason for your break from drum and bass? That was the time when you started a techno project.
Yes, exactly. I just got bored of dnb then but I still have a lot of projects now because of that break. I just needed it more than anything, I was doing this job for so long, so a break had to be taken. We did an album and it drained all my ideas and then we went straight back to the studio, which we shouldn't have done. We felt really empty after all, there was nothing else for us to do after really concentrating on that album. This was the period when we did nothing for a while, which was very good for me, actually.
That was the time when you went back to being a chef and also taught music.
Yes, indeed but I still do both things now as well! This hiatus was very positive and useful for both Guy and me. If you do anything for ten years, you might lose the spark — and we did.  
It's the burnout.
Yes, unfortunately. In a brutal way, it is a knock on the head: what is it all about, why do we do it? All the best things come to an end — in a good way. I decided not to do any more gigs and it felt good at that time. I had two years doing other stuff and then I got some ideas again.
You needed the kiss of the muse again. 
Yeah, I feel like I've got ideas that are different from what's going on now. It wasn't just the fact that we ran out of ideas, we also didn't really like what was going on around us musically. But now I feel there's a big opening and I'm trying to get it right, attempt to bring some music back.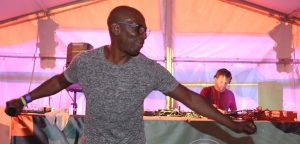 How can you still devote time to teaching and cooking as well?
I run it like a pop-up, so the restaurant that we do is just for weekends and/or festivals — we make really posh sandwiches. It's not yet a massive business but it's a side project I do. Teaching is also fine as I DJ at weekends, so I've got the whole week to be busy with other issues.  
What do you exactly teach?
Production: Ableton and also hardware production and I also manage a studio in East London, so I do mastering there as well. It's the most amazing studio I've ever seen, so when I finish work, I can stay there and make music. Parts of it belong to me but it's rather shared.
You're a trained jazz pianist as well and you can also play the flute and the saxophone. What led you to drum and bass, and when? 
When I was 18 or 19, so 1998 or 1999 — when I met Guy, basically. At that time, all I knew was playing the instruments above but Guy was interested in records. He bought a sampler, and when I think back to it, it's quite amazing, actually because he didn't have any musical background but still, he was driven to make music. When he bought this equipment, he didn't know how to use — there was a huge driving force in us, really. His real drive to learn how to use this was a different world for me — that's where it started, really. I could play the piano, he recorded it and started working on it.
It was definitely in Cambridge :), and you went to school together, didn't you?
Yes and yes. We went to sixth-form college together, which is a 2-year-education in England when you're 16.
Cambridge is also of vital importance in drum and bass because of the Nu:Logic guys, with whom you used to work together. Unfortunately, the Cambridge 4 is not as well-known as it should be (the Cambridge 4 with Nu:Tone and Guy, back in 2006) 
I grew up with the Gresham boys as our parents were friends. Weirdly, Dan was teaching me how to make music as he was the music teacher at sixth form college (laughs). Later, I moved into his house and basically, Dan taught all of us how to make music — I mean, Guy, Matt, and me. He is a trained musician, an organ player and extremely talented in both music and teaching. Eventually, I moved to London.
But before that, you had also played at the legendary Spoonfed Nights. 
Of course, yes. Interestingly enough, it was my little sister who started it. They were wicked, really good nights! (laughs)
As far as I'm concerned, Matt is really thinking about resurrecting it. Or maybe you all are. 🙂
Well, we've always have been thinking about it. Matt still lives in Cambridge but I don't. So I just don't know… I don't know what Cambridge is like any more. When we did it, there were loads of our friends, it was a big scene. We should resurrect it and bring it to places like that… franchise it! (laughs) Unfortunately, I just don't see those guys enough. We grew up together, so I'd love to spend more time with them because we had so much fun before. But it'd be a bit weird, a bit like Take That now. (laughs)
The Pensioner DJs! 🙂
Am I old? I don't know… I don't care, really. (laughs) But it was long ago… 10 years or so that we've been doing that.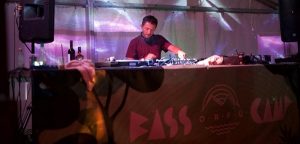 I've read that you were not always happy with remixing as you felt that in some cases, it was just about earning money.
Yeah, the Adam F one… When the Sun goes down. If I think back to the records we put out, there were a few which we started leaning towards trying to get hands in the air, like Talk to Frank, which is quite ravy and Electric…  When we look back, we think these were just…
Commercial?
Sort of. We were not making what we should have been. We were making what we thought we should.  
In order to fulfil the expectations?
Yeah, exactly. That's what you should never do! This is a black rule. Sometimes you do remixes for money. (laughs) Well, you know, you only do remixes for money. You know, the Aphex Twin album, 26 remixes for cash… This is unspoken but when you're a producer, it's natural. You take a remix because you want instant cash and of course, you want to make it really good.
Do you remix easily?
It depends on the track but no, I don't think I do.
Still, which one would you pick as your favourite?
I've never been too good at it as I'm too much emotionally involved in music, with other people's parts, you know. But if I had to choose, I'd definitely mention Autumn from Die and Is this real? from the Rufige Kru.
And how about the other way round? Which interpretation of your songs would you label as well-done?
Belleview by dBridge, definitely.  To tell the truth, there are so many… (smiles) The Burial one for Be True. The Japanese Electronics from Instra:Mental  for instance. They're fucking amazing and I'm so proud to be involved in those records!
Apart from remixes, what other things are you proud of?   I'm very proud of our album,
I'm very proud of our album, Call to Mind. I was also very proud of being a chef until I stopped cooking.
Why did you stop after all?
Because it's just silly, takes up too much of your life. You have to be there a hundred hours a week, so you don't get any time to yourself. I got to the point where I learnt a lot but just left. I'm not going to do this any more, though I'm glad I did. I'm also good at fly fishing and also got very close to get my pilot license. Unfortunately, I kept on failing at my radio exam. (laughs) Last but not least, I've got a grade A at piano.
Do you still play the piano sometimes?
Yeah, I do, all the time, every day. I make music using the piano. I've got a Rhodes in my studio, I use it as much as I can. I want to get some more lessons, actually, since it's been a long time I got guidance on that. I do like playing instruments, that's what I love most.
How about the saxophone and the flute?
I'm afraid I don't like the former any more. I played it for too long, I'm sick of this sound. (laughs) I hate this sound on records, too. But I still love flute, play it whenever I can.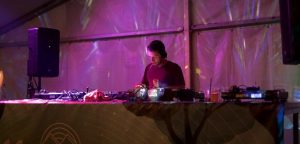 Let's see some more personal issues. What is your greatest fear?
Sharks. They really annoy me. I don't get scared by many things but being in the water with a shark scares the shit out of me. Nothing else, really. When I was a kid, I used to do a lot of diving, probably that's why.
And that was also the period of the film "Jaws".
Yeah, that didn't help. (laughs) But I've been swimming with dolphins, who are also scary as they're massive. You're out of control because you're not supposed to be there at all.
What is your idea of perfect happiness?
A place like this, where I'm completely self-sufficient, with a beautiful family around me. I wish I could just disconnect myself… to be harmonious with this world, to go far back where we should be. Well, a true hippie! (laughs) But I can't really exist in a place where there is no art involved and I'd never want that to my children.
When and where were you happiest?
I don't think I could be happier than now! I think I've found myself recently and that's great. I've started to get back into what I grew up doing. Being involved in drum and bass is a love/hate thing now. I do love it, it's sort of my heritage and it's good to put some new music out — the continuation of what you've been doing. We stopped making music but I knew I was going to return one day.
What do you exactly mean by your heritage?
It's my youth, really. I was 16 when I started to listen to drum and bass. I was listening to tracks I still love: any Photek stuff, any Jonny L stuff. It's just completely built into me not do anything I've done before, which is probably a hindrance, I guess. I just always want to experiment, might have taken that too far, then started to be a bit more conventional, inside elements in the music… I've just taken it too far, actually, in the past few years, trying to experiment new ways of making drum and bass. I've got a lot of ideas to do, so I'm materialising them now.
Which talent would you most like to have?
Rapping, I'd love to be a rapper, someone like Ice Cube. Being a good rapper can be sexy, I think.
If you could change one thing about yourself, what would it be?
I wish I was a bit taller. (laughs)
If you were to die and come back as a person or a thing, what would it be?
Bob Marley because he was in a great position to deliver an important message by his music and I love him. He's one of the people who made real deep impression through music.
Political influence…
Yes, through music. But it's also beautiful, happy music, that's why I like it.
What is your most treasured possession?
My drum machine.  
Who are your heroes in real life?
My granddad. He was a patriarch in our family, always brought us together, big events, food. He was an amazing "family guy" in the best possible sense: had exciting stories about the war, an excellent character.
What do you most value in your friends?
Company, loyalty, emotional support and I love cooking big meals for my friends. They're a massive part of my life. We meet every day.
And finally, what is your motto?
"Every day is a new day." I'm a very positive person, up to the point where I have difficulties in neglecting negativity.
A vágatlan magyar verzió itt olvasható.
If you liked the article, you can follow me here. 🙂