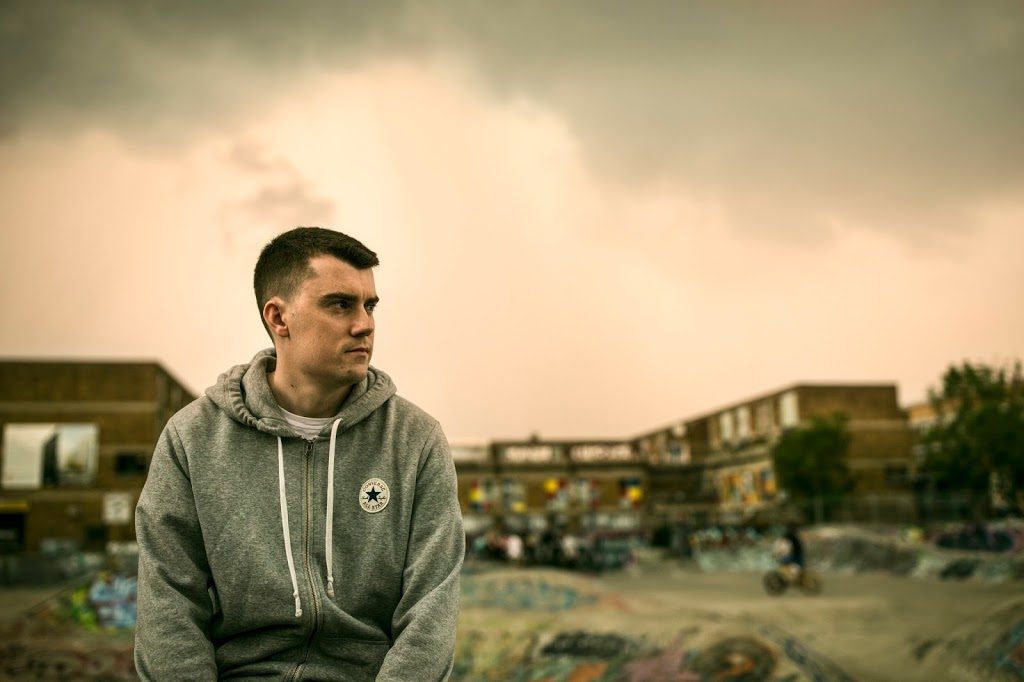 The other smashing party closing out 2016 was Fixate at Instant. Declan is the guy you must follow (if you haven't done so yet) — there is a massive amount of talent, dedication, and attention to details behind his endless humbleness and reserved nature
Since you're relatively new in the business, I guess it's your first time in Hungary. 
It's not my first time. (laughs) I came here about three years ago with my girlfriend. It's my first time playing here, though.  
Then what are your impressions about us? 
Love it here, beautiful city. I remember visiting the bath houses which instantly got rid of a hangover. Also walking to the top of the Citadel and seeing the view of the city.
So, we can state that this is your first gig here as a DJ.
Yes, but I actually went to Instant when I was here. (laughs) Didn't realise it until today, though! Seemed like a cool venue, looking forward to going back later.  
Do you have any stereotypes about Hungary? 
To tell the truth, I don't know too much. Yet. Goulash (smiles)… and you had a big empire back in the day (Austro–Hungarian Monarchy — Évi).
Well, the basis seems to be stable. 🙂 What can we know about you? Where are you from?
I live in North London, but I was brought up in Oxfordshire.  
What was the reason behind your moving to London?
I just wanted to change the scenery, there's a lot more going on there. Most of my friends live there, too.
Unfortunately, there weren't too many facts published about you, so could you introduce yourself to us a bit?
Before DJing, I went to university, studied business and marketing and graduated two years ago. It was at the last year of the uni where I started Fixate and decided to take music more seriously.  
What was your drive to get involved in music?
I've always been interested in it as far as I can remember. I used to skateboard, that's what got me into discovering new music. I started listening to hiphop when I was 10. I remember during music lessons at school messing around with drum samples on the keyboards they let us use. I started looking into how people made beats and discovered FL Studio, so grabbed myself a copy of that and been experimenting with it ever since. I've been making music for 8-9 years now and not got bored. (smiles) I also get an urge to make music when I haven't in awhile, so I guess there is just a natural drive. Before I made music, I was really into art. I always used to be doodling or something, I really enjoyed doing art at school it was probably my favourite subject. I wanted to pursue graphic design but I did badly at it in my GCSE exams and didn't carry on with it. I still just enjoy being creative.
You started with producing hiphop at the age of 16 (9 years ago).
Yeah, I started creating beats on FL Studio, then I got involved in grime, then dubstep, finally making what I'm making now: drum and bass. I often make hiphop beats or grime beats for fun sometimes. I also make a lot of techno/house stuff which I may see if I can put out this year under a new name but we'll see what happens with that. I think it's good to try out a lot of different styles, often you come up with ideas that end up becoming 170 BPM and working really well.  
That's a magical curve indeed but what led you to this genre?
(smiles) I don't know! I always used to make 140 music, and I still use a lot of hiphop influence but it didn't always work at that speed. That was the point where I started to make a sort of drum and bass stuff with Chimpo, but I never really did it before. We made two tunes which worked out, and I kept making tunes at that BPM. I find it a lot more comfortable and exciting. I've always messed around trying things, and he was the one who introduced me to a different side of dnb. Of course, I always knew about Exit and the halftime stuff, Om Unit, but he made me make those tunes and from there, I've started to be more motivated. I actually started Fixate just for that… (laughs) and yeah, here we are!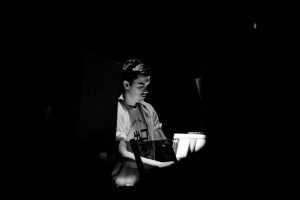 By the way, why exactly Fixate? 🙂 What is Fixate fixated on?
(laughs) Just making music I like, really. As for the name, I needed to think of one, and this one appeared not to be taken. I was thinking for ages, had many other versions, changed my mind a lot before but Fixate remained.  
Chimpo is said to have introduced you to Dub Phizix, then came dBridge.
Before that, I sent music to Barely Legal, she introduced me to Chimpo. Funnily enough, I met him at Outlook 2013, then he took me to the stage where Dub Phizix were playing on. Since then, we are in touch, they have kept on supporting me.  
How did you cope with the challenge of things happening this fast?
I don't know if it's fast. I think I'm still not where I want to be. It was only last year when it all started to get more professional. There were about two years where I just kept sending music, kept pestering and messaging them. It doesn't feel that fast because I've been doing it for quite a long time. The last three years start to pay off now. I still feel lucky because of all the support I get, that's great. 
So it was not that fast but still, it must have changed your whole life.
Meeting and even working with people I've always looked up to and taken inspiration from was very surreal at first but also really fucking cool. It's sort of changed my life in the sense that I have to be a lot more social, and meet lots of new people whereas I can be the opposite quite a lot of times.
You're rather an introvert.
I guess so, I can be fairly unsociable but I think most producers probably are. The thing they enjoy most is spending a lot of time on your own in front of a computer listening to a loop they made over and over. (laughs)   Having said that, I love DJing and it's a privilege to be able to travel and meet new people through music. You always get to meet like-minded people and I've made really good friends through it I will stay in touch with.
Having said that, I love DJing and it's a privilege to be able to travel and meet new people through music. You always get to meet like-minded people and I've made really good friends through it I will stay in touch with.  
"Dickhead" (Richie Brains), cannot be avoided, of course. 🙂
I guess not! Well, who is it? (smiles) Alix Perez, Chimpo, Fixate, Fracture, Om Unit, Sam Binga and Stray. Yeah, that was fun. We got a group email from Darren (dBridge) suggesting the idea to "form like Voltron" in his own words. Being a fan of all their music, I was pretty nervous but really excited to be part of it. I'd never met any of them in person besides Chimpo.  
So, the drum and bass supergroup…
The Blazin' Squad of drum and bass.  
Probably you were the youngest one.
I think I'm the same age as Stray, or he might be a year older than me, but yeah, I'm definitely the newest to the scene out of them.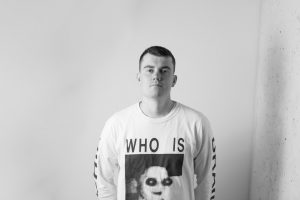 What was the most interesting part of the project? 
It was a big learning experience for me. I got to see how other people make music since I've never really worked with others before. It was good to get to know everyone, make friends and I also got to learn a bit about the industry itself. It was great how the project turned out and to see the reception to it.
What was the most useful piece of advice that you have been given?
Not to worry about being too technical. It should sound good, that's it. Also, not to worry about what people want to hear. It was great in this project; it wasn't really planned and it turned out to sound like something unique.
What was the most difficult?
Getting everyone to meet up, there are 7 and a lot of us are busy playing around the world and have various other projects on the go. It took a long time to get all of us in the studio. We did a few sessions and then started sending stems after that. The second hardest part was keeping it quiet, especially on the run up to the release, so many people were asking who it was!
Really? No confrontation? I would have expected some small fights at least. 🙂
No, not at all. There were some different versions of tunes but it all came together pretty well — easily.
Are there talks of continuing it?
There's always a possibility in the future. We're doing some Richie Brains DJ sets, the last one was in Bristol in December where we hosted a stage with Levelz. The next one is Hospitality in the Docks in April.  
Is it actually the idea behind that you attempt to perform in full force?
Yeah, if possible, although again there's a lot of us so it's difficult. We try to make it happen, it's not impossible but sometimes it's not realistic for promoters and with people travelling so much. It's should still be pretty sick with 5 people, too!
Let's turn back to you then. Can we expect an album from you in the near future?
It's not something I'm really thinking about right now but definitely something I would want to do in the future. I'm currently finishing up a release for Exit, then there are a few people I have been working on music with, Sinistarr, Alix, Skeptical, Dismantle, dBridge to name a few, hopefully, some of that will be out this year. You should also see some other releases from me this year but more info will come out about the later on.  
How do you relax?
I guess making music is a way of that. Apart from that, I spend time with my friends and girlfriend, watch TV shows, like It's always sunny Philadelphia, which is my favourite. If you watch it, you'll understand my recent tune "Rickity Cricket", which came out on 20/20, is a reference to it.  
Is there a tiny bit of secret you're ready to share with us?
I've got a fear of flying. (laughs) It's got better in the last few years, which is good.  
As it is the end of the year, what's your resolution for 2017?
I never really do resolutions because I don't stick to them! I generally set small goals to achieve, for example, finish an EP and just keep working towards them. Another example is last year I set myself a goal of doing a guestmix/interview on BBC Radio 1, which I got to achieve when Toddla T invited me to do one for his show. So just watch out! 🙂
Photo credits: Chelone Wolf and Rob Smith
A vágatlan magyar verzió itt olvasható.
If you liked the article, you can follow me here. 🙂