Party Teaser: Buunshin @ The Hive: Buunshin
Categories
Music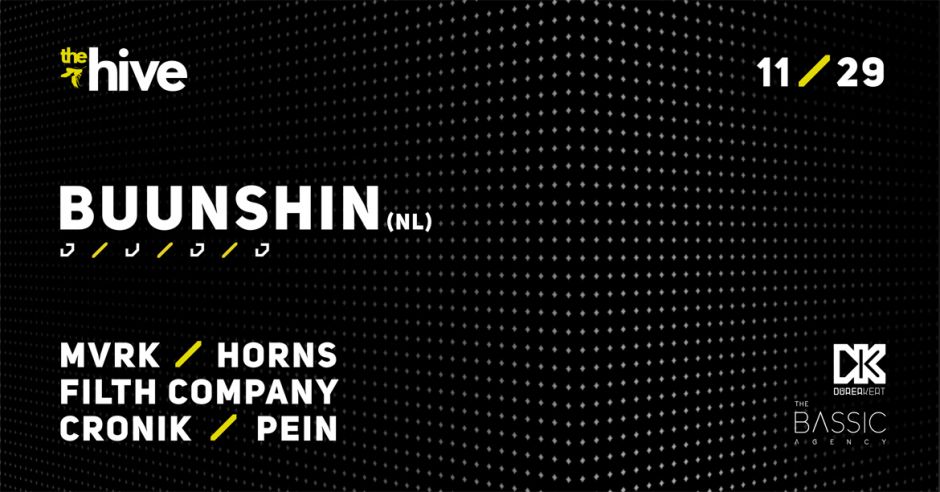 Buunshin, the latest and most exciting newcomer in drum and bass is visiting Budapest very soon. Owing to The Hive Budapest crew, I was offered a behind-the-scenes glimpse at his plans for the show on Friday, 29th November. Here you are!
"Here are a couple tracks I'd love to highlight. It was a hard list to make because I mainly play my own unreleased music, but I always throw some old classics in there. With modern days attention span, we are so used to always looking out for new music, but in my opinion, these tracks definitely deserve to be in the spotlight a little longer.
Silent Witness: Being Human
Had to start off with this one because of the history I have with this track! I remember being in the apartment of my friend that introduced me to drum and bass. I was really keen on learning how to mix it, so we sat down for good many hours with this tracks and a couple of other ones so I could learn how to do it properly. Ever since I got my first shows some years later, it has never left my USB. Still sounds really up-to-date, in terms of mix it is old, though.
Noisia: Running Blind
I've listened to this track so many times, and it's never gotten to the point where I got bored of it. It hits hard, but it still has shelf life, which is something extremely complicated to pull off. The vibe it sets on the dancefloor is just unreal. It gives me goosebumps every time I think about it. As of today, this is my favourite drum and bass tune of all time.
Disprove: When I See You
I've always had love for this one. Texture wise it is really raw and untamed, but the vibe it sets feels really calm, stylish and composed. The arrangement also supports a lot of different mixing styles, which opens a lot of creative options as a DJ. I took a lot of inspiration from Disprove when I started out as a producer, so he definitely deserves a place on this list. 
Otira: Dread
A newer joint I recently fell in love with. I like it because it's obvious that it comes from a different perspective than the drum and bass scene, which I like to reflect in my own music as well. Tracks like these make me inspired to work on new stuff, and to me, it's also the kind of music that keeps a DJ set dynamic. Rules are there to be broken (at some point).
Mefjus: Sinkhole
For me, this tune reflects a lot of creative choices I stand for, so I'd like to advocate those choices by playing out this tune as much as I can. Recently, I have been obsessed with making the most out of a little amount of sounds, and this tune is, in my opinion, the one that executes that idea the best. What it is also worth noting is that it doesn't always work to have an atmosphere playing while the drop hits, which makes this track even more special to me. Don't even get me started on the drums or we will be here for another hour."
Well, it all sounds like it is going to be a night definitely not to be missed! The local support is provided by MVRK, Horns, The Filth Company, Cronik and Pein. See you all on Friday, bee there! 🐝
A magyar változat itt olvasható.
If you like what you've just read, don't forget to hit that "Share" button. In case you don't want to miss the upcoming exciting content, feel free to follow me on Facebook, Instagram, Twitter and Mixcloud.